Signs You Should Service Your Brakes
Your brakes are among the most important parts of your vehicle. After all, they're what bring your vehicle to a stop. Because of their importance, your brakes need to be in tiptop shape at all times. Keep these warning signs in mind so you know when it's time to bring your vehicle in for brake service here at

Nissan

Downtown.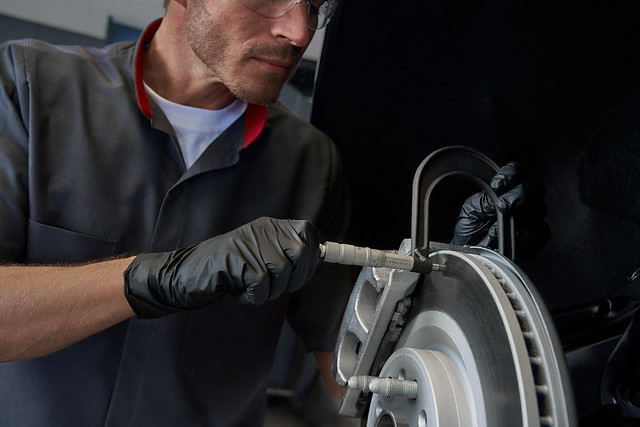 Noises

Your brakes should be silent when you use them. If you hear a high-pitched squealing sound consistently when you press the brake pedal, then it's likely they need to be replaced.

Brakes all have a metal indicator, which causes the high-pitched sound when the brake become worn past a certain point.

This sound isn't always loud enough to hear, so you might want to occasionally turn down your radio to listen for it.

If your car has been sitting in water, this sound might also occur, so make sure you're aware of where you have been parked.

If the sound stops after a while, you can blame excess water. If it continues, it is a sign that you need your brakes replaced.
Wear and Tear

Visually checking your brakes is a good habit to get into. You can typically see your brakes through the spaces between your car's wheel spokes.

Your brake pad will be visible against the wheel's metal rotor.

There should be at least a quarter of an inch of pad visible.

If there is less than a quarter of an inch of pad, your brakes need to be replaced.

Pulling

If your car begins to pull to one side or another when you apply your brakes, this isn't a good sign. While this can be a symptom for many things, it is usually a sign that you need new brake linings.

Uneven brake lining wear can cause this pulling.

When there is foreign matter in your brake fluid, pulling will also occur. Either way, this symptom is a sign you should get new brakes.